Summer Appeal 2023
Marta and Daniel Walotka are loving parents of five-year-old triplets Lena, Pola and Nina, but the family's lives were rocked when Lena and Nina were diagnosed with Battens Disease – a genetic condition of the nervous system that affects speech, movement, and is ultimately terminal. Marta tells us how Hospice is helping to care for the whole family.
"In Northern Ireland there are only two children with CLN2 type Batten Disease, and it's Lena and Nina, nobody else. The world totally collapsed for us when they were diagnosed in 2021. It feels like it's not true when you've got three kids and two of them are diagnosed with a very rare disease. It was a disaster, the worst day of our life.
"The triplets were born prematurely at 29 weeks. Lena was born first, followed by Pola and then Nina. We spent eight weeks in hospital with them but after that they were developing and meeting milestones perfectly.
"We are so lucky to have three great, five-year-old girls – we love them so much. One of the wonderful things is that you can see their three different and distinct personalities.
"Lena is independent, though she is guarded and often needs her own space.
"Pola, she's the watcher, the curious one. Pola is very artistic, doing ballet, drawing and colouring. She is very caring for her sisters, always checking what Lena and Nina are doing.
"Nina is always in the kitchen, wanting to help. Nina loves people, she loves the other kids when we go for a walk, saying hello with a smile and a wave when meeting people on the street. Generally, the three of them are like that.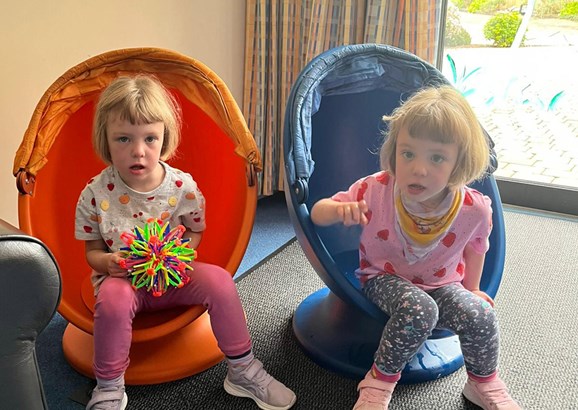 "A couple of years ago we noticed that Lena and Nina's movement, balance and speech weren't right and then both girls started having seizures.
"COVID delayed all investigations into the girls' symptoms, including their MRI scan and the blood test for genetics. In December 2021, Lena and Nina were finally diagnosed with Batten Disease. It's a degenerative condition affecting the nervous system and it's terminal. There is no cure.
"Lena and Nina started receiving enzyme replacement therapy in Great Ormond Street Hospital, so we were exhausted flying to London every two weeks for the girls' treatment while a metabolic team in the Royal Belfast Hospital for Sick Children (RBHSC) were being trained. Lena and Nina now attend RBHSC fortnightly for enzyme replacement therapy.
"Pola is healthy and does not have Battens Disease, but indirectly it affects her, too. We don't know how much Pola knows exactly about her sisters' condition. But we explained and she knows that the identical twins are not well, that someday they will maybe need a wheelchair, they will stop talking totally, and how in the future they will also lose the ability to eat and swallow.
"We have moments of five-year-old child behaviour – 'Mum, she's pulling my hair!' Knowing that Lena and Nina have Batten disease, for now it's just nice to see each day that there are moments when they are still typical five-year-old kids, being little rascals or giving cuddles, smiling and sometimes it's Pola singing songs for Nina.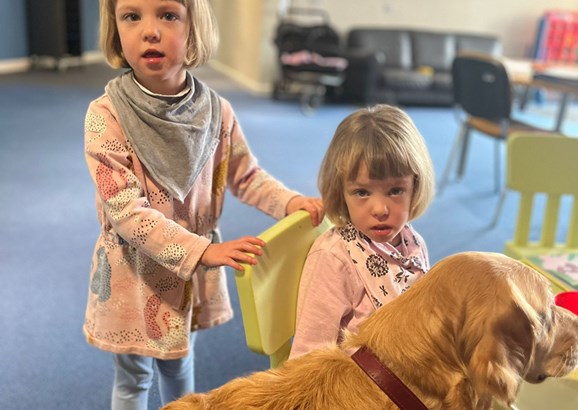 "Our community paediatrician helped set us up with speech or language therapists, a physio and occupational therapist. Then she mentioned about Hospice. We both thought 'No, we don't need that, not yet.' But right now, it's just 'Okay, when are we next going!'
"The first visit with the girls to Hospice was in July 2022. From that day, always when we go there with the girls, they don't want to leave! The girls love the soft play and one-to-one time with the nurses, which is so important.
"I said to Daniel, it's like we are home, a very comfortable place with a homely feeling. It's a beautiful space, and we can be there with them. Go to the soft play, go to the playground outside, sit and have coffee. And we know that they are with someone, but we are still there if they need us.
"The girls feel comfortable there, they love it. Sometimes the nurses make cupcakes with the girls. Pola likes the arts and crafts room, she paints and make cards, because it's not just about Lena and Nina, Hospice cares for Pola's needs too. The Hospice's Family Support team are incredible.
"The Children's Hospice nurses provide such great clinical care when Lena and Nina are there. The girls take seizures, so they both require rescue medication at times and need to be closely monitored during the daytime and also overnight."
Marta tells us how the two sisters require full assistance for all personal care and with feeding. They require one-to-one supervision when at home and when they are in Hospice care, as they have vision loss and are unsteady when walking, so they can be prone to falls. The girls also wear helmets during the day to prevent head injuries and they both use an ICV (intracerebroventricular) device for enzyme replacement.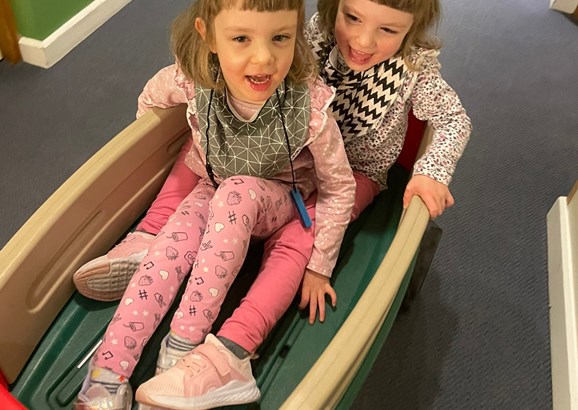 Marta adds: "It's very helpful that we've also got the support of the Hospice's social work team for our family. We know that if we are struggling, we can phone them for a chat. We also know we can count on the helpful nurses there, it's a real partnership. Teamwork!
"The Hospice is important. As parents living and looking after sick children each day from their birth, you forget to look after yourself. We need that time to sit at home and take that time to relax a little bit. Hospice is very, very helpful for us as parents, as a couple.
"You need that time for yourself, but it's also good for all three children. Because they are with us every day, I think they appreciate the time when they don't have us. It's giving them some freedom. In Hospice, it's mostly a nurse spending one-to-one time with Nina and with Lena. Such individual attention is a rarity at home.
"Since the girls started having seizures, it has been a challenge for us as a family. It's only us. With all our relatives back in Poland, Hospice has now become like extended family, helping us and wrapping care around all three girls, and also Daniel and I. They support our whole family, not just Lena and Nina.
"People ask us what to buy the girls as Christmas or birthday presents, but we tell them 'Please don't buy anything, we don't need anything'. We are delighted that the Hospice can look after us, but we appreciate when people help Hospice support all the families who struggle every day and need that help.
"So, I'm directly asking anyone seeing this: if you can help at all, then please donate what you can to help children like my Lena and Nina, and the hundreds of families across the country who rely on the care and support of NI Hospice. Thank you, and thank you Hospice."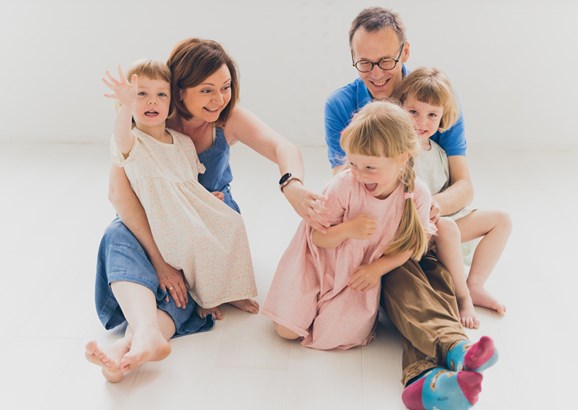 Help more families like the Walotka family by making your donation today!
Sign up for our CONNECT newsletter