Hospice Virtual Challenges
Step into a world of fitness, adventure, and fundraising with our Virtual Challenge Series!
Explore diverse landscapes, from bustling city streets to serene nature trails. Take part wherever you want, whenever you want – just sign up for the challenge of your choice!
Get moving, stay motivated, and embark on a journey of fitness and discovery while fundraising for hospice in one of our exciting virtual challenges.
When you get onboard, we'll kit you out with a Hospice t-shirt and provide you with a fundraising pack with all the support you need to meet your challenge. What are you waiting for…
Walk 40 Miles for Hospice
Help us celebrate 40 years of care and challenge yourself to Walk 40 miles for Hospice - a remarkable opportunity to make a tangible difference in your local community.
It's a chance to challenge yourself, connect with a supportive community, and help those who rely on our services.
Your footsteps can transform lives, provide essential resources, and leave a lasting impact. Join the journey to create positive change.
Click here to register and get your complimentary Hospice branded t-shirt and fundraising pack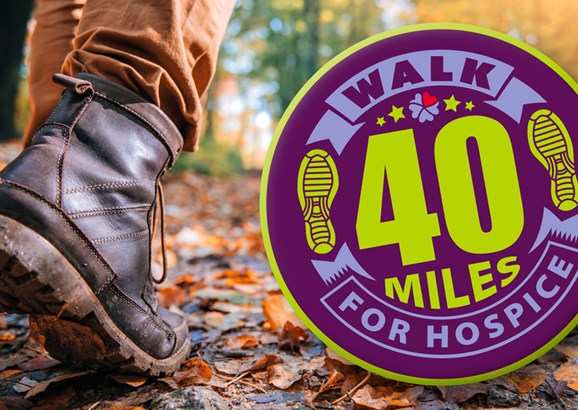 Sign up for our CONNECT newsletter