Four-year-old Eilinora – also known as Nora – lives with a rare genetic condition and has been cared for by Hospice since she was two. Her mum, Grace, tells us the story of Little Star Nora and her Little Star Siblings, loving eight-year-old Edie and three-year-old Fionn.
"Nora is very bold – she loves her brother and sister but loves to hear them getting told off! She loves it when people talk and sing to her, music and stories. She loves lights, getting out for walks and going in the hot tub and the bath."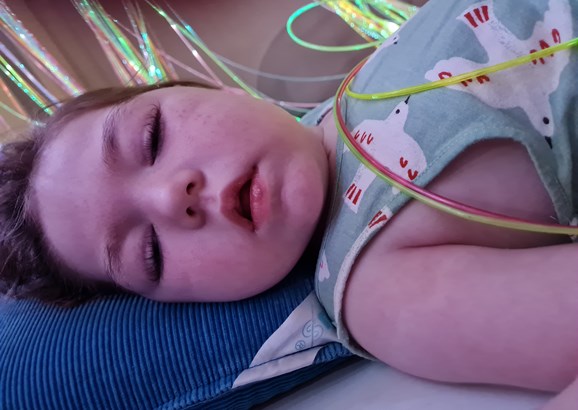 "Nora developed normally for her first three or four months, and then started to have seizures which they initially thought were infantile spasms. Then we got the diagnosis she had SCN8A, a rare genetic condition that can cause a whole spectrum of things that she suffers with – seizures, developmental delays, feeding issues, respiratory issues – all sorts of issues.


She is non-verbal but definitely tells you when she doesn't like something! We also get squeaks and smiles, a lot more smiles this year. Fingers crossed they last. She's always got a little smile for her daddy!"
"When Nora was about two, we had some serious feeding issues and were in hospital for a long time. That was when Hospice got involved. We met Rosie, the palliative care nurse linked with the Royal Hospital. A hospital nurse told me, "The palliative care team are coming to meet you". Immediately I was thinking, "They know something I don't. This is really bad. Why are we meeting the palliative care team?"
I was scared and really resisted it. I probably wasn't the nicest to Rosie! But they were really patient with us, persistent and respectful as they talked us through it. We realised that it's not just about caring for Nora at the end of her life, it has been much more than that. I'm so glad I stopped resisting!"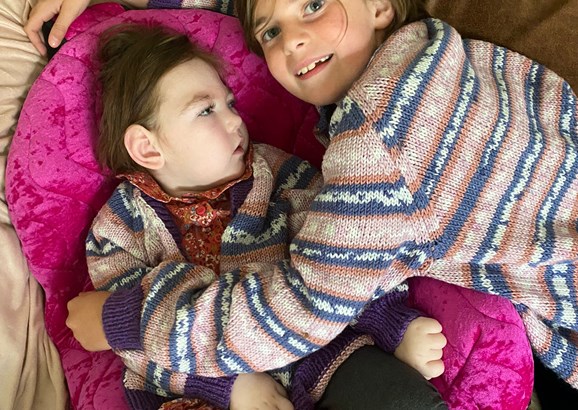 "Hospice has done a lot for us. Our community care hospice nurse, Bethany McCracken, became our guardian angel. She couldn't have done any more for us. We've had Hospice at Home where Hospice nurses have come here and sat with Nora, which was great – especially when Eilinora's younger brother Fionn was a little baby – so I could nap or do the dishes."
"We missed the assisted short breaks in the Children's Hospice during COVID. We all visited before the pandemic kicked in – Fionn was a month old at that point – so it was full on, but great. Edie has done the Hospice's summer schemes. It's good for her just being around other siblings that have sisters or brothers like Nora.
We've been able to stay more recently at Hospice. For us, there's nothing better than being able to go and put your head on the pillow and get a full night's sleep, knowing that Nora's safe with people you can trust.
Nora loves it! She's pampered like a princess when she's there. They do massage, painting and music therapy. We arrived back one day, and she was on the water bed in the sensory room with someone playing guitar and singing to her. A lovely way to spend an afternoon!"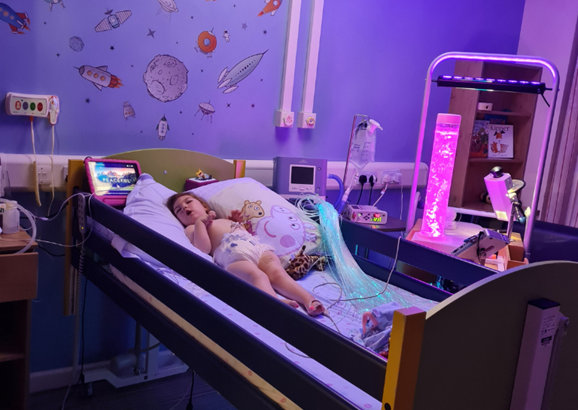 "When we go there, they set up the den and we can all sit together stress-free as a family and watch a movie. And if Nora needs suctioned or has a seizure halfway through, they can take care of that.
There are little things that people take for granted that are so important. It doesn't happen very often, but Hospice's support makes those things possible for me and my husband, Gerard. It is just really, really important to us and makes life more bearable. Whenever you live a life like this, it's hard. But when there's people that help you and care about you and genuinely will do anything they can to help you, there's nothing like it."
Little Stars Sibling, Edie
"When Nora went into hospital, it was Edie's first day of nursery, and the first year was really, really hard. Edie has seen and dealt with more than any eight-year-old should. We try and involve her as much as we can, while protecting her a little bit."
"They love visiting Hospice – they love the sensory room, the soft playroom, the garden and the den with all the musical instruments as well.


The first time was great, because before COVID there were other siblings there and we didn't see Edie – she was away! She just had a ball. She went swimming with them and she just loves that she can do whatever she wants. Nobody says no. If she goes to the kitchen and asks for ice cream at nine o'clock at night, they're like, 'Yeah, have what you want.' They're spoilt rotten in there."
"It is a special relationship between Edie and Nora. Edie isn't a patient person, but she is when it comes to her sister. You just catch her talking to Nora and singing to her, and she'll tell her about her day. She loves to read her stories. She loves Nora to come and lay on her bed while she plays Barbies.
"You hear Edie jabbering away to her and telling Nora what she's doing, she loves it. If Nora's having a bad minute where she's been sick, Edie will run and grab you a towel. She brings her teddies and she'll get a blanket, put it on her and wrap her up."


!Edie's really caring, kind and thoughtful, especially when it comes to her sister. Edie's so good. She'd do anything to help Nora."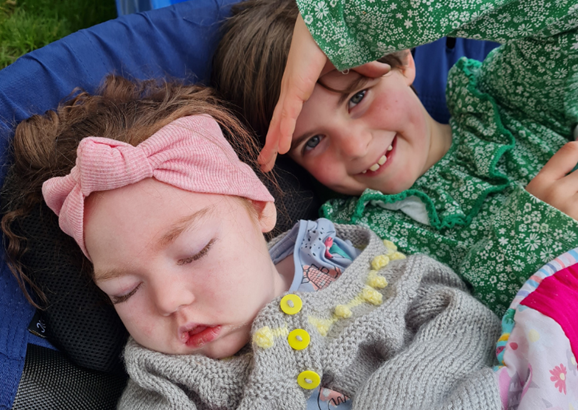 Sign up for our CONNECT newsletter