Keelan and Sophia share the family's Hospice story.
"In 2017, Lorcan was diagnosed with quadriplegic cerebral palsy, a movement disorder which affects Lorcan's four limbs and also his trunk. It is incurable, so Lorcan will be challenged with it for the rest of his life."
Meet five-year-old Lorcan, a Little Star of Children's Hospice, who requires round the clock care for cerebral palsy and comes to Horizon House for Supported Short Breaks, while his family also receive ongoing emotional and practical support from the family support team.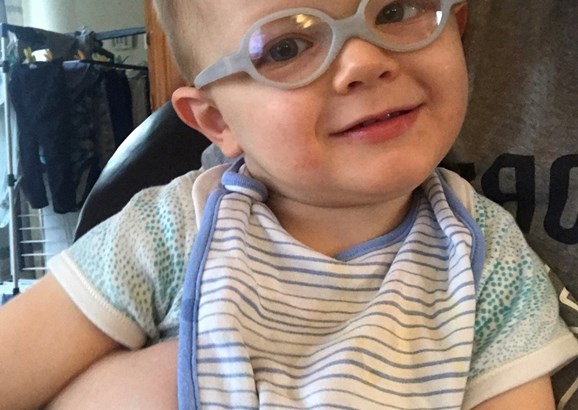 "Lorcan is the light of our lives, he's definitely the blue-eyed boy of the house. He's a fantastic child. He can't speak but we certainly know what he wants and what he's trying to communicate. And there's definitely devilment in him, and he is a bit of a rascal. When he's not up at two, three, four in the morning, he is shouting the house down and getting everyone else up! But there's so much joy, so much love in him. He's really the apple of our eye.
"We first found out about the Northern Ireland Hospice shortly after Lorcan's diagnosis. Lorcan is challenged with his complex disability cerebral palsy but he is not life-limited. So we felt that Hospice wouldn't be for us, until it was explained properly. And when we saw the place and we were introduced to our social worker and the nurses, it's been absolutely phenomenal, a great outlet and brilliant support for Lorcan and us as a family.
"Lorcan gets respite, normally about three to four nights every three months, which is a godsend for us because it's a full-time job really, on top of obviously trying to work as well. It's intense and it's full on.
"When Lorcan goes to Hospice, he absolutely loves it and it makes a big difference for us, obviously we know he's well looked after. You feel as if you're not alone and you feel really well supported. All his needs are met and he's fed well, he's medicated, he's playing, he's read to, the girls are fantastic with him and he's looked after as well as if he was at home.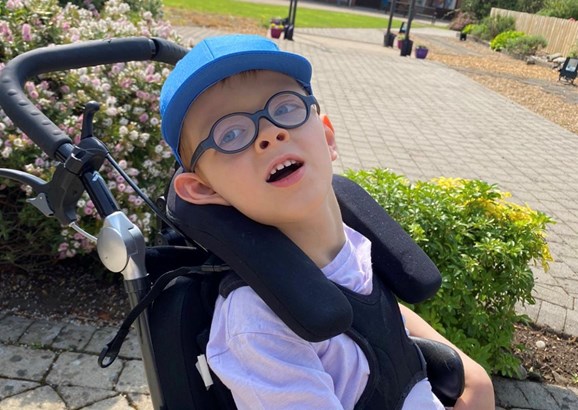 "We've two daughters and as they have become teenagers our time probably is more limited with them, so it's nice to get a bit of a break and a bit of time to spend with the girls and to have one-on-one time with the girls as well.

"We actually get a full night's sleep whenever he is in the hospice, which is a rarity in this house, as obviously Lorcan's needs are 24/7 care. But we manage, we take it in turns and we're a good team and we all work together. Sophia and Lois are a fantastic help as well.
"The nurses and the health care teams are only a phone call away and they always update us, showing us pictures of what he's been up to. In the summer, he was gardening and he brought plants home for Mother's Day. Or making cards for Father's Day. He absolutely loves hydrotherapy so on a Monday whenever he's there, the physiotherapists take him into the swimming pool.
"Lorcan is a clever boy and he appreciates when people take the time to have a bit of one on one time with him. He loves that in Hospice, a lot of artwork and all messy hands, a lot of messy play, water play and he goes to the sensory room."
"Lorcan loves painting, Play-Doh and plasticine, all stuff he can hold in his hands," adds his sister Sophia, who also likes to take Lorcan to the park. "He gets on the disability swing which holds his wheelchair and it swings him. I always feel sick but Lorcan loves it!"
Dad Keelan continues: "Sophia is very good with him, very hands on as well. She would definitely be his best friend. And if it's me and Erin in here, he's always looking for Sophia and Lois. But yeah, definitely Sophia is very, very hands on with him and she's an absolute credit.
"The house is always a bit mad when Sophia and Lorcan play because it's trying to think of creative ways to play. They were doing a bit of bowling with him on the floor in his chair as the bowling ball."
"And I run him up and down the hall like a race car!" adds Sophia. "Lorcan's my best friend," says Sophia, "and he'll always be my best friend. But he hits me when he doesn't like something. And he shouts at me and he knows what he wants. So he will tell you 'I don't like this.' And then he'll do his happy squid, which is when he retracts his arms into his body and folds himself in half, he does a happy squeal and I know he likes that."
Dad Keelan adds: "He loves the fast things, like flying about in his chair like cars and swings and stuff. Typical things that little boys and children of Lorcan's age love. If you look past the needs of Lorcan, he is just a little boy and wants to do things like other kids his age want to.
"He gets excited. And because we know him inside out and back to front, we know what all the noises are and what all the moods are. And, you know, there are a lot of wee happy squeals and a lot of tears and a lot of shouting.
"To be honest, we would be absolutely lost without the Hospice's social work input and the nurses. And from the moment we walked into it, we were made to feel very welcome and Lorcan was as well. It's been an absolute lifeline. The hospice is really a home from home."
Sign up for our CONNECT newsletter