Joshua's mum Alison McCauley told us about Joshua and the family's Hospice story.
"Joshua is such a happy, smiley little boy. He absolutely loves cars and anything with wheels and music! His two sisters, Ellie and Lucy just dote on him and help out loads with his care needs too. He attends Willowbridge Special School in Enniskillen.
"He was born with a rare chromosome condition called Kagami Ogata Syndrome (UPD14 paternal) affecting less than 1 in 1 million births. He was born extremely sick and required intensive care in Belfast, Altnagelvin and then ongoing hospital care in SWAH [South-West Acute Hospital] for most of his first year.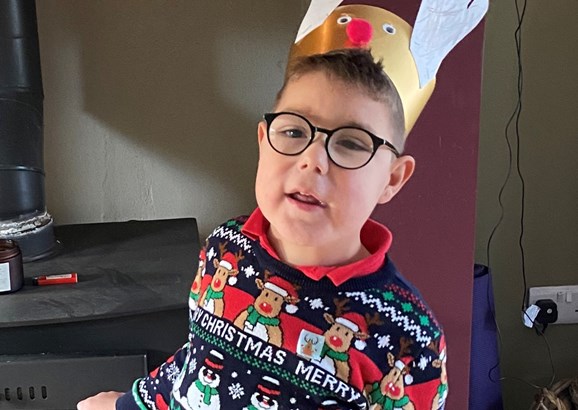 "Joshua is now 7 years old and is mostly fed a blended diet via his feeding tube due to his difficulties swallowing. He has numerous complex medical needs, mobility difficulties, scoliosis [where the spine twists and curves to the side], skeletal dysplasias [which affects bone and cartilage growth] and learning disabilities. There is very little known about his condition and his future, other than it is a life-limiting condition and there have been no children with his diagnosis who have reached adulthood.
"Despite all his difficulties and the uncertainty around the prognosis he was given at birth, he is the brightest wee lad, full of mischief and he lights up our lives so much.
"Joshua has been cared for by the NI Children's Hospice since 2016 when he first came home from the hospital as a baby. Initially, we had some short breaks at Horizon West in Killadeas and after it closed we have been supported with short breaks at Horizon House in Newtownabbey, Hospice at Home nurses and the Family Support Team.
"We have also enjoyed short breaks with Joshua as a family at Horizon House. There we know all of Joshua's care needs are taken care of, and we get time to rest and be cared for too.
"We also have been massively supported by the family support team with home visits in the past and also through the parents' coffee mornings and mums' days. Through these meet ups, both in person and online, I have had so much support from other parents.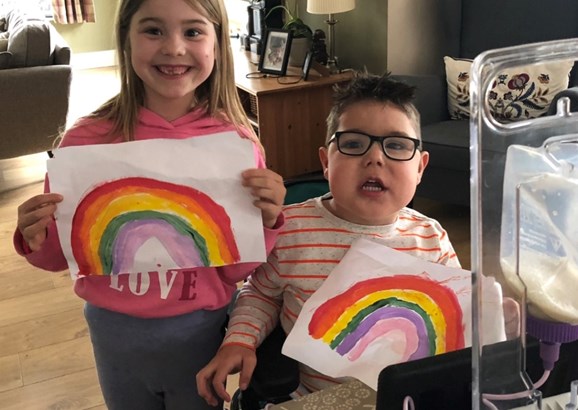 Hospice to us is like its own wee community of other families who understand what it's like and there's a sense of belonging in that for us.
"Joshua's sister Ellie has attended some of the sibling support groups run by the family support team, both virtually and in person at the activity days. We have also taken part in the family fun days online and in person with the Hospice, which have been another great opportunity to connect with other families and be supported.
"Joshua also was cared for by some wonderful Hospice at-home nurses, Grace and Claire, who were amazing, one of whom was able to be in our home to care for Joshua when I went into labour with his younger sister! Without them we would have been lost in those early days, they were like an extension of our family and knew Joshua and us so well.
"Joshua requires breathing support at night, so we rarely get a full night's sleep and they provided us with respite at home to allow us to get a night's break. Joshua just loved seeing the girls come in and would still be full of cuddles for them when he sees them.
"Our short break stays have been invaluable to us, they allow us to spend time together as a family at Horizon House and Joshua's care needs are taken care of, so this allows us to spend uninterrupted time with his sisters too. It's a chance to rest and also to have fun, as both Joshua and his sisters just love the staff and all the activities they get to do with them.
"For me as a mum, the Hospice has provided so much – a sense of belonging and an opportunity to meet other parents that just understand what it's like caring for a child with complex needs, balancing other children's needs and trying to look after yourself in the midst of it all.
"Both the staff and the Children's Hospice community are so valued in our family life."

Sign up for our CONNECT newsletter