Meet the beautiful Ana-Lily
Ana-Lily is a happy girl with an infectious smile, from a loving family with doting parents Mark and Delia. Ana-Lily is cared for at Children's Hospice with assisted short breaks, helping the family cope with her complex needs of the rare genetic disorder. Mark and Delia tell us their story below.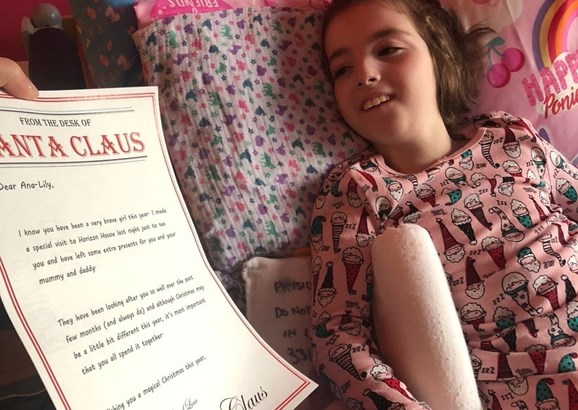 Ana-Lily loves music, books and stories. She loves going for a drive or a walk, and loves her football. She really likes to interact with people, her cousins and friends. Sometimes she loves going bowling – it's one of the things that we can do together with her.
Now that she's becoming a teenager, she likes her own space and loves watching football on TV. Sometimes she might let me watch a few minutes of a match or two! She likes to go and see Mummy playing football as well for her team, Ambassadors in Sport.
Ana-Lily is a happy wee girl who loves to have a wee giggle. Before 2019, Ana-Lily would've had the whole school assembly hall giggling along with her. She's got an infectious smile and laugh. We don't see that just as much now, so it's a real joy when that little personality comes out. It's a little bit of gold for us.
Ana-Lily was born seven weeks premature, but we didn't know she was going to have any kind of severe disability. Three or four months into her life we discovered something just wasn't quite adding up in terms of her development.
It wasn't until she was six years old in 2016, after a lot of trips back and forth to London and investigations in Belfast, that Ana-Lily got her diagnosis of being one of four children in the world with this very rare genetic condition.
Her main symptoms are severe generalised dystonia and dyskinesia, which means she has no control over her limb movements and needs supported head-to-toe with different equipment. She's very severely physically disabled. She really has a hard time, a daily struggle with pain and discomfort. She is fully supported for all her needs round the clock. She's fully peg-fed via a tube into her tummy. She's on medication to control her spasms and her movements.
Ana-Lily is non-verbal, so she's not able to always tell us what the issue is, but she has good understanding of what we're saying to her. One of the most frustrating things for her is that she understands and she wants to be involved in things, but she just has a body that lets her down so that she's not able to engage, interact and communicate in the way that she'd like to. She uses eye gaze technology to communicate with us. As her parents, we can understand most of the time what she wants and what her needs would be.
In 2019, Ana-Lily had a really difficult year. She spent five months in hospital after a life-threatening condition called status dystonicus, which is a complication related to her condition which could have respiratory complications, organ failure or could ultimately be fatal. Then, in 2020, she developed a rare and severe form of epilepsy (Lennox Gastaut Syndrome) which medication doesn't always manage to control, and that really took quite a toll on her.
When Hospice was first mentioned as an option, we didn't fully appreciate that it's about more than end-of-life care. They could offer respite for families like us, because we don't have family nearby, and we needed a little bit of a break just for the two of us.
"One of the amazing things with Hospice is how there's no pressure. They don't push you to do anything you're not comfortable with, in terms of leaving Ana-Lily to stay over and allowing somebody else to care for her, which is probably the hardest thing for any parent of a child with complex needs".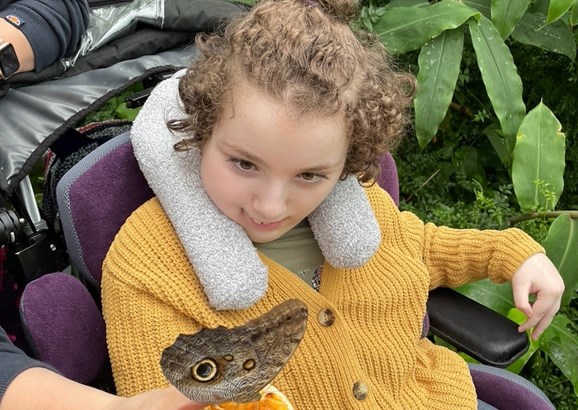 We had no idea at the start what we were doing at all. All of a sudden we have this child with complex needs and we didn't have the typical journey that others have had. You build up this knowledge and this experience and then you feel you're the only person in the world that can do this. It does take a while to let go.
The biggest thing Hospice does for us is give us a break from each other. Ana-Lily gets a break from us as well and gets used to other people looking after her, which is good for her.
She also has that independence where she has other friends. She's always happy to chat about the music therapy or painting sessions, the hydra pool, the swimming pool and all the different areas Hospice has. She's very interested in all the little arts and crafts they do. So, whenever we pick her up again, it's lovely to hear that she had these other experiences that she wouldn't get if she wasn't going to the Hospice, and that she has her own life outside of us, outside of our house.
It's good for her and it's good for us too. It's like a real refuelling for us. You're always on high alert. Sometimes when things are difficult, we get to the stage where we're both saying to each other 'I don't know how much more I have to give'. Then we get a Hospice break and it is just fills the tank, you're just refuelled.
"This last time we had a stay, we were like two kids! We had a meal out, went to the Opera House and stayed in a hotel and that was lovely. But what we really enjoyed was just coming home, knowing that Ana-Lily was safe and being cared for. We were able to just relax".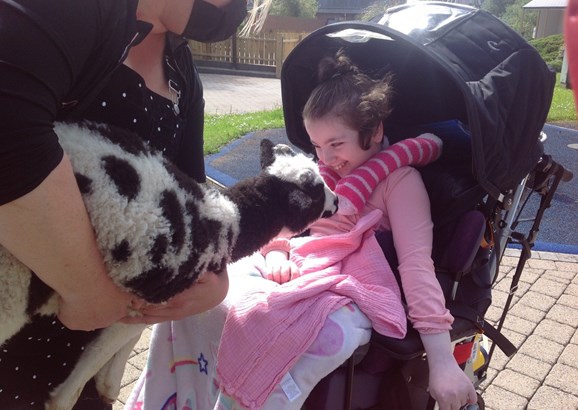 Hospice is like an extension of our family, in terms of the interest in Ana-Lily as a person. There's a bond and a relationship there that's just as important as making sure she gets her meds and all that stuff. There's that high level of care at the Hospice – whenever you go there, you feel like you're going home. It's even very homely, with the sofas in the living room and the family rooms, and everybody is just one big family, from the kitchen staff right through to the nurses.
Ana Lily's Story
Listen here to Ana Lily's story and how the Hospice has supported her and her family.
Sign up for our CONNECT newsletter